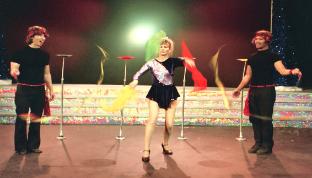 Plate-spinning & juggling in "Holiday Fever" Xmas 2005

Theater Training

The Arts Educational Stage School - Tring Park, U.K.
The Arts Educational Drama School, London.

Television Host Training

Pamela Holt Model and Talent Agency, U.K.

Children's Theater

Polka Children's Theater, London.

Producer & lead. -
Meet The Boffee Bears - Touring Play

Producer & lead -
Little Red Riding Hood - Musical Fairytale, Club Theater, Manchester.
Director & lead - Julia's Jingleshop - Anti drugs theatre-in-education play and film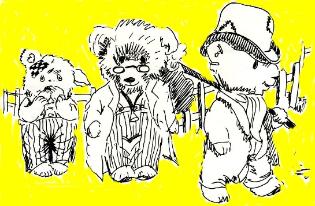 "Meet The Boffee Bears" - Children's Touring Play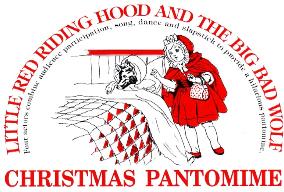 A Theater-in-education play written and
directed by Julia Gayle and produced by the
Derbyshire Police Force in northern
England. Local school children made up
the cast in a play to educate 8 to 12 year
olds about the dangers related to solvents,
drugs, alcohol and smoking

The play had some scenes filmed by a
Manchester based camera crew which were
projected onto a large screen at various
points during the production.

Theater-in-education Play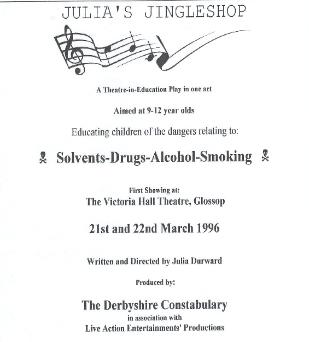 "Family Entertainment" at Hollywood Theaters, U.S.A

'What's My Line?" - The A.C.M.E. Comedy Theater, Hollywood.
"Katrina Relief Variety Show" - Silent Movie Theater, Hollywood.
"Holiday Fever" - The Unknown Theater, Hollywood.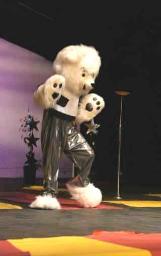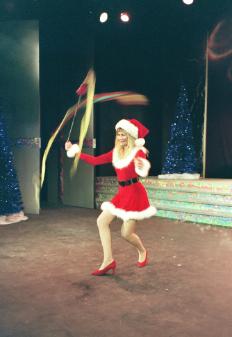 Poi Swinging in "Holiday Fever"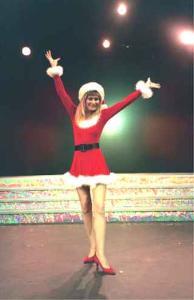 Following Julia's success as one of Northern England's top children's entertainers and her knowledge of
the entertainment business Julia was asked to sit as a
Panel Judge
on the National U.K. Talent
Competition
"Search For A Star"
at Southport's Promenade Theater in the U.K.

Snow White Story Time & Tricks For The Trafford Center, U.K.

"Snow White Storytime And Variety Show -

The Trafford Center
Main Stag
e
, Easter 2006.

Santa Girl in "Holiday Fever"

Juggling and dance routine in Hollywood theater show

Musical Theater Show of "Little Red Riding Hood"

"Circus Circus" theater show description from Idyllwild Arts
"Family Week 2006" information booklet"

Easter 2006 Holiday Activities

Snow White Storytime & Tricks


On The Orient Main Stage, The Trafford Centre, U.K.


"We are proud to have children's entertainer Julia
Gayle, who is fresh from the Hollywood stage
appearing as Snow White on the Orient Main Stage.

Listen as the enchanting fairytale comes to life as she
tells the story in her own words.

Have fun and participate in the tricks and magic that
Snow White has learnt from the dwarfs.

You will also get the chance to capture your own magic
moment with Snow White, so don't forget your
camera!"

Snow White show description taken from The Trafford Centre
Easter 2006 "What's On" information pamphlet.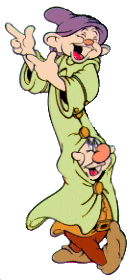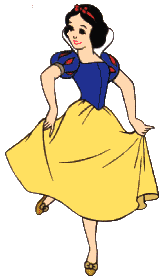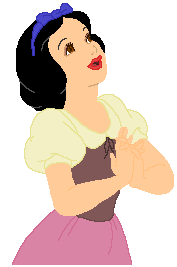 July 5th 2006

"CIRCUS CIRCUS"


A Three Ring Circus Circus Event


The Bowman Theater, Idyllwild Arts Campus,
Idyllwild, CA


"Step right up folks, to the fun and games of
the world famous Circus Circus Carnival.
Our resident entertainer,

Julia Gayle

is one of he finest performers ever seen
or heard by modern eyes and ears.
She'll wow you with her spinning plates, whirling poi and
vivid balloon animals. There's nothing Julia can't do or
teach, so prepare to amaze yourself, your family and
friends with new found skills and stunning talents.

What a way to spend an evening in Las Vegas. It's not
every day that the circus performance becomes an
experience rich with audience participation. This is surely
going to be a night to remember!"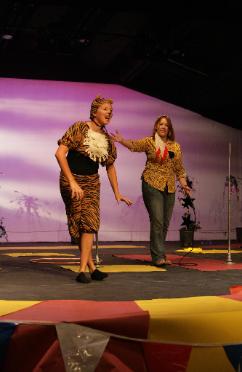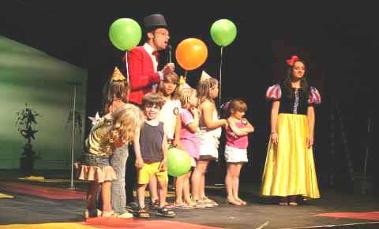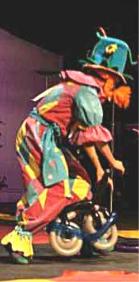 Julia "Riding" a balloon
motorcycle around stage

Ringmaster Act With Children & Snow White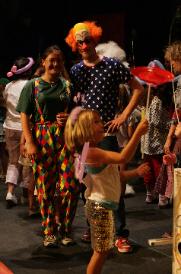 Finale & Audience
Participation

Producer and performer of "Circus Circus" Theater Show
- Idyllwild Arts Foundation, Idyllwild, California

'CIRCUS CIRCUS" BIG TOP THEATER SHOW 2006 FOR
IDYLLWILD ARTS FOUNDATION "FAMILY CAMP"

A "HAPPY EVENTS 4 KIDS"

Children's Circus Theatre Production

Produced By
Julia Gayle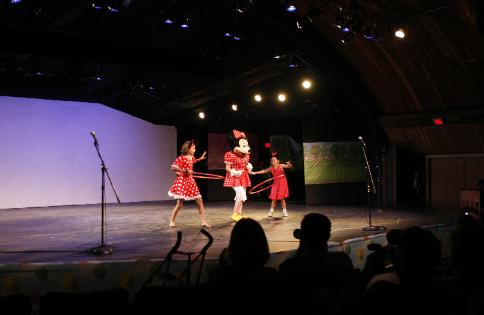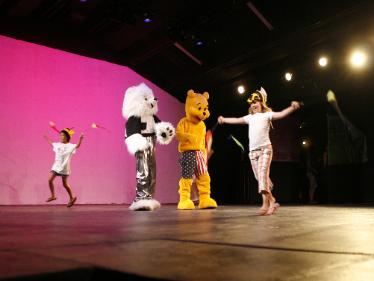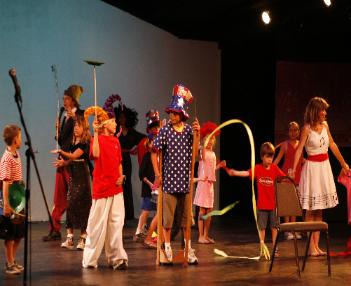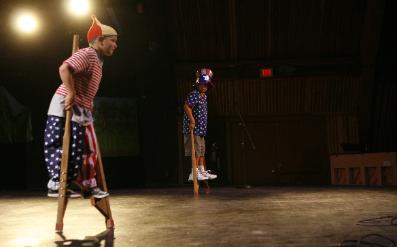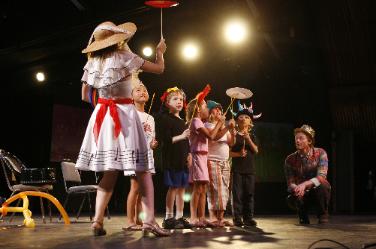 Julia Gayle's
Plate Spinning
Act With The
Children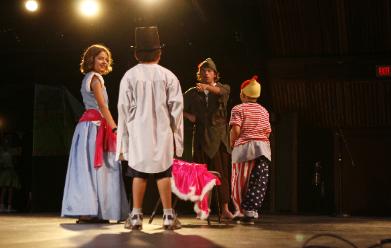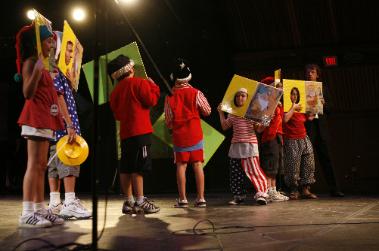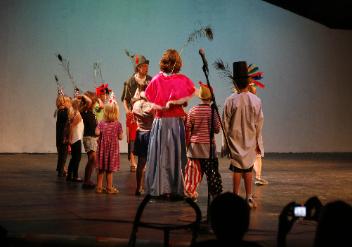 CHILDREN SPINNING POI RIBBONS LIKE
WINGS ON BEES

CIRCUS THEATRE FINALE

SEVEN DWARFS WITH
CHARACTER FACE BOARDS

STILT-WALKING
FRIENDS ACT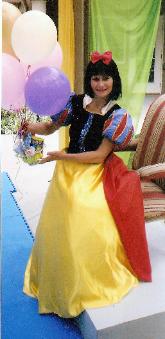 SCENE WITH
PETER PAN
, JOHN, MICHAEL
AND WENDY

FEATHER BALANCING ACT WITH THE INDIAN CHIEF
& THE LOST BOYS - SCENE TAKEN FROM THE
STORY OF "PETER PAN"

Speciality Act in "Holiday Fever" - The Unknown Theater, Hollywood, CA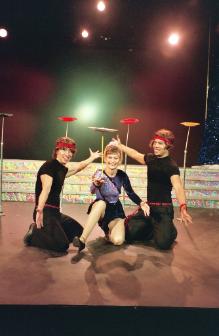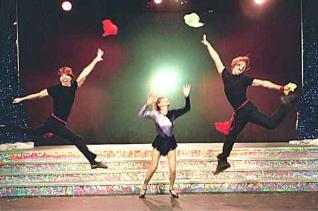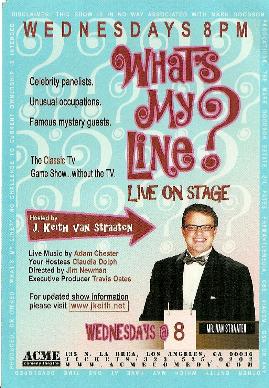 The children had less
than a week to learn
various forms of circus
arts, rehearse scenes
and perform their newly
acquired skills on a
theater stage.

It just shows what can be
done with perseverance
and determination!

Plate Spinning in "Holiday Fever"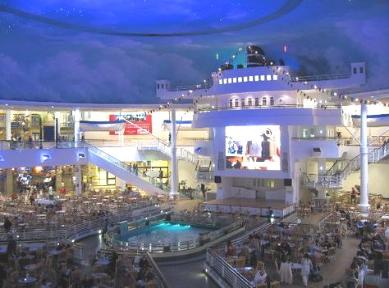 Panel Judge For National U.K. Talent Competition